1
« on: May 16, 2018, 06:53:56 PM »
Ah, interesting. What beans do you plant?

I'm still trying to ID them. They were a gift from an aging neighbor who unfortunately died. The closest I've come is 'friholes cuernos' or 'horn bean' which is probably a generic name.
Here they are: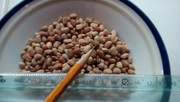 And on the vine: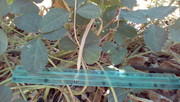 And the row of vines. There is a dried-up row of black beans in front that are totally dried up. They were in the ground for 3 months whereas the healthy looking row has been in the ground for 6 months and seems to be starting a second life right now. They are supported on a frame but I've just left them on the ground in previous years.