1
« on: June 16, 2018, 03:16:26 AM »
Some of you may have noticed a fruit that stevo posted pics of a few weeks ago. It was Pangium edule which the literature is ambivalent about the eating qualities and whether the consumer experiences ill effects. I also acquired some when stevo did and ate the fruit with trepidation at first and with gusto later on. I asked about the fruit by enquiring with seasoned fruit campaigners who did not give glowing reports of the taste and warned it might make me sick.
I found it had a soft mango like quality with pineapple and papaya elements and was one of the best tropical fruits. I suffered no ill effects after eating large volumes and was told by the grower that this large fruited Mariana Islands variety did not have the cyanide of other types.
As luck would have it the grower dropped a large hard unripe fruit and an over-ripe one for seeds to me today.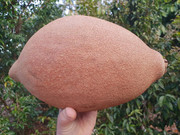 Here is the unripe one looking like the biggest mamey sapote or capuassu in the world.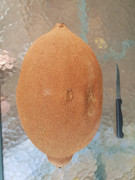 Here is the soft over ripe fruit that I will cut open.
Yes it is too far gone to eat but is a bit like capuassu still..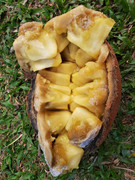 The structure inside is not unlike some Annonas. Stay tuned for the grand opening of the currently unripe one.