1
« on: July 08, 2018, 03:14:12 PM »
Hello everyone, I just ate the first "Rapoza" mango off my tree. The fruit was delicious, spicy, juicy and I was able to detect some citrus flavor as described by TopTropicals (where I bought my tree from) However, it wasn't completely fiberless —the fibers were not enough to bother my daughter or myself though. Now, I'm curious to know whether I have a real Rapoza or something else since Rapozas are supposed to be fiberless. The tree's characteristics seem to jive with those of a Rapoza tree like random blooming throughout the year, over 20 mangoes on a 6'x6' tree, very decease resistant and even got some gummosis due to cooper deficiency last year.
This is the link to TT:
https://toptropicals.com/cgi-bin/store/store.cgi?find=mangifera%20raposa
.
These are the pictures of the mangoes I just picked off the tree ( The tree still has some green ones )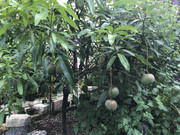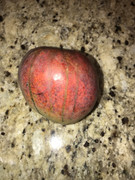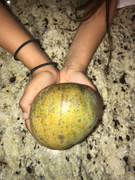 Thanks!!