1
« on: October 19, 2018, 02:33:35 PM »
I have a tiny yard but it still produces a good amount of fruit. Not too long ago, I teamed up with Brad to set up a big orchard and we hope to be harvesting wheelbarrows full of fruit in the coming years.
First, here is a picture of my harvest from several years ago. I love this picture because of the diversity of fruit and contrast of colors between the different varieties of fruit.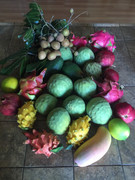 Here is a picture of fruit harvested today. This is only fruit from today. There are still a ton of fruit that I was too lazy to pick. There is also a lot of fruit that are still ripening. I chopped up the White Jade pineapple yesterday but it would have been beautiful in the background. The bananas, guava and key limes are from Brads place.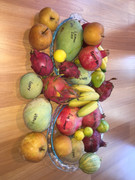 I should have added a few stalks of San Diego Yellow and Asian Black Sugarcane but too late, I already juiced them.
Simon