1
« on: April 20, 2018, 10:34:59 PM »
I've a 4 years old pomelo seedling which is unfortunatly affected by citrus greening since late 2016.
It's a beautiful tree, uncommonly nicely shaped with a round canopy unlike many seedlings which tends to have an upright and unattractive shape.
The main trunk and branches have huge thorns but the youngest branches produced in the past 2 years are thornless.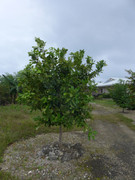 Growth in the last year hase been absolutely lacking because of the HLB disease.
After reading several articles i took the decision to try my own experiment with thermal therapy.
It's not easy since the three is quite big already (about 3m 9ft) and i haven't a PET film big enough to cover it thoroughly.
I used 3 PET bags the big ones normally used for protecting ceramic tiles pallets (a freind of mine sent me these)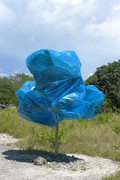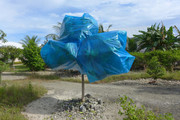 I put a thermo-higrometer inside the canopy to monitor temperature and humidity.
I'm confident to reach the therapeutical temperatures of about 45-50 °C (115-125 °F) since sun now is extremely strong here and inside i measured a temperature of about 34°C ( 93F) at just 8 am.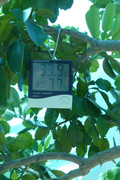 I will try to control the temperature with the opening in the bottom of the bags.
I'm planning to let the heat work for 5-6 days then i'll remove the bags, i'll prune water and fertilize and see wether i'll have some improvement or not .
Updates to follow!