1
« on: May 21, 2018, 06:03:01 PM »
One of my seedling vines from last year is displaying some curious morphology this year as it has emerged.
The tendrils are sporting their own flower buds (or pseudo-flower buds).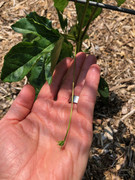 Pretty wild! The earlier leaves are also massive - I would estimate 8 or more inches across. Not sure if all the leaves will end up this big.
Hasn't bloomed quite yet so will be interesting to see what happens.
The odd thing is that it did not display any of these features last year. It did flower and fruit.
Oh - I think I just remembered. Last year this vine DID have one oddity - several 5-lobed leaves. Standard is 3. So something wacky with the genetics of this fella.