1
« on: February 24, 2018, 11:25:49 PM »
I have started putting together and purchasing parts of my hoop house. I'm building this hoop house at my parents' homestead on the outskirts of Houston. They have 2 acres and are always fiddling out in the yard. Winter is their boring season as they basically huddle inside the majority of the time. Our winters are generally not that cold as I am able to run around in shorts and t-shirts through the majority of it. However, snow and cold ice freezes have been more common lately. These oddball events occur a day or two at a time and only once or twice a year. They don't occur every year either. However, I would like to stop bagging, dragging, and carrying lots and lots of pots to a makeshift greenhouse that we raise each year. It's just too much work!! The plants take a beating and it takes a good amount of work putting up the makeshift shelter each winter.
I have decided to take the leap and make a simple hoop house. They can get a jump start on and prolong their growing season with a nice hoop house. The hoop house will about 72' or 73' by 20' wide. I am undecided on the height of the structure but I'm thinking 11' tall. This will allow easier access to the two ends and they will have a short vertical ground post sides. The height will also allow trees to be grown a little taller before they have to be pruned.
So far, I have only purchased the hoop bender and the 1 3/8' x 10.5' top rails. I am currently in the process of bending those hoops. It's a decent amount of work given the fact that I plan to space those hoops at about 3' apart. Why you may ask? Because 1, they occasionally get strong winds; 2, more ribs = less flopping of the covering which in turn will reduce wear and tear; 3, it's only a difference of about $150 to significantly strengthen the structure.
I'll keep this first post up to date with prices (rounded up) on the material spent.
-hoop benders (I bought 3 sizes in case I felt like raising a smaller one (10' or 12' wide) at my house in the subburbs)= $130
-1 3/8' galvanized top rail ($12.48/each or bulk price if bought 30+ $10.24/each)= $700 thus far. I will need more as I need to but stiffening and perlins
I have bent about 45 of them. I still have more to do.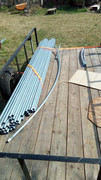 Thangbom