1
« on: July 10, 2018, 11:24:48 AM »
My family and I have been binging on fruit for the last few months. I have had fazes where we would eat lots of one kind of fruit then get tired and move on to the next. This is a good thing as fruit season changes throughout the year. I really don't know my fruit season but I do know when they are on sale and cheaper than regular. he he
Anyhow, I'm a fan of the Adolfo (honey/champagne) mango due to there sweetness, no fiber, and cheap (3/$1). However, they have a simple taste. To me, they have a slight hint of mango taste with just about no acidity and sweet like table sugar. My wife likes the other big mango. I don't know what type they are the reason for this post. they are big, and 1/$1 right now. They have minimal fiber, sweet when fully ripen/soft to the touch. They are not as sugar sweet like the Adolfo and have more acidity, more mango-ish flavor. I know store bought mango are junk compared to what can be grown but they are cheap and still taste good to us.
My 2 Mango trees have doubled in size since I bought them. I plan to keep them in pots forever if possible. The bigger one is a Cogshall. The smaller one is a Nam Duc Mai whic was only 12'' tall when I bought it. The local Nursery said that's as big as they are able to order due to high demand. The place they order from don't have time to let them grown bigger. People just snatch them up.
What kind of mango is this?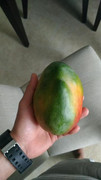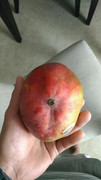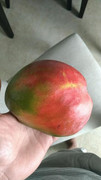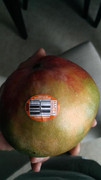 These are my 2 mango trees trees. I think I would like to add another one that is prolific and compact like the Dwarf Hawaiian but, I can't find one and the wife probably will not approve of another plant.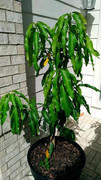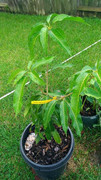 YzGyz