1
« on: April 21, 2019, 03:49:52 PM »
To continue the annual tradition, please post about your favorite tasting mango varieties for 2019. I see that Chris from Truly Tropical has already started posting videos from this years crop. Here is a link to last years thread.
http://tropicalfruitforum.com/index.php?topic=28697.0
Last year, one of my favorite tasting mango varieties was Rajapuri grown in India. I purchased these at the local Indian Supermarket and they were fantastic last year. The Mangos were huge and extremely flavorful with a sweet, rich taste throughout the flesh and concentrated Piney, Indian resin flavors closer to the skin of the fruit. What made Rajapuri so exceptional was that it had an indescribable sweet umami flavor that I can only compare to the flavor of Guava.
This year, I picked up a box of Rajapuri and was surprised to see that they had 9 fruit to a box. Last year, there were only 4-6 in an oversized box. This years fruit was significantly smaller. My Mangos were sitting in a warm garage for about a week and some of the fruit started giving off a sweet mango flavor and felt slightly soft so I cut one open.
The flesh color was more yellowish and from the looks alone, I could tell it was underripe. The fruit had Brix readings between 14-16% and were definitely not in their prime of ripeness. The flavor and sweetness were sort of their but definitely not at their best. The early season Indian Mangos(grown in India) tend to be picked early and watered down so I was not expecting much from them.
This goes to show how drastically Mangos of the same variety can taste so different when you compare early season fruit to mid or late season fruit. Hereís a couple pictures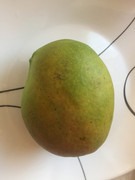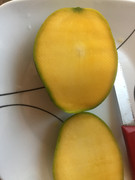 Simon