91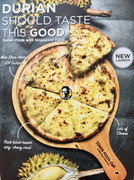 Durian season in full swing in Singapore. The pizza was a first - actually pretty good - if I make them in the future a good salty prosciutto would balance the flavours really well!
Tried a few we haven't tried before.
Found 2 good stalls to try them where the quality was good and we weren't ripped off as foreigners - one called "36" on Geylang road and another one called "combat durian" a short taxi ride away.
- Mao Shan wang - they are everywhere - in fact the oversupply this year has dropped prices by 40%. I really liked the bitter/sweet balance.
Jim feng (golden Phoenix) - really quite bitter - we didn't like the ones we tried because of this.
XO - my favourite this time round - really nice, complex bitter/sweet with subtle cognac like aftertaste.
Red Prawn - from the main land- flavours not as deep and complex as the ones from Penang- apparently a well recognised thing.