1
« on: May 07, 2019, 05:45:06 PM »
I found out there is an ichangensis x Satsuma mandarin hybrid in a private collection. The cultivar is named 'Liudmila'.
Gene Lester is an 85-year-old former engineer who has a large private collection of different citrus varieties on a 12 acre property in the hills above Watsonville, California. He has about 250 citrus varieties.
It's not open to private visitors, but if you are a member of the California Rare Fruit Growers organization once in a while they organize tours to visit the collection.
Gene grew up in Alhambra, studied mathematics at the University of California Los Angeles, and worked in software management for IBM for nearly 34 years. He moved to his current orchard in Watsonville in the mid-1980s.
He also supplies Manresa, a high-end restaurant in nearby Los Gatos, with locally grown fruit for its annual citrus themed dinner, which he attends. Volunteers from CRFG help him upkeep the orchard.
source:
Serious About Citrus, Farm & Ranch Living, January 1, 2019, by Jill Gleeson
The plant grows in the Gene Lester citrus collection in California and was named after a friend. It is a beautiful and productive ornamental with a dense shiny foliage of large leaves and plentiful fruit that hang singly or in clusters of 3 to 9.
The flower buds show a hint of purple when quite immature but the flowers have no purple shade. It is also unusual in that new growth is yellowish green.
The friend who gave this plant to Gene says the peel is edible. It lacks the typical acrid oils of most papeda peels. The fruit and taste are quite similar to yuzu but whereas yuzu drops its fruit quite early the fruit of 'Liudmila' stay on for a long time. In the present writer's opinion it is an ideal compact citrus plant for the dooryard and perfect as a pure ornamental.
source:
Ichandarin 'Liudmila', Citrus Pages website, Jorma Koskinen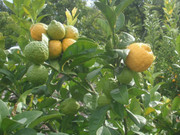 However, there is some doubt about whether this is actually an ichangensis hybrid.
After consulting a citrus specialist at the UC Riverside Gene Lester later came to the conclusion that because of the sweet edible rind and the vestigial petioles it is more likely to be a citron hybrid, and thus closer to Rough lemon.
The source plant is in a back yard in Redwood City, CA and 'Liudmila' might just be a runaway rootstock hybrid.
Redwood City is on the border of zone 10b/9a but has cooler temperatures.
However, I do know ichangensis was formerly available from Rolling Rivers Nursery in Oakland, just 22 miles away from Redwood City, so the ichangensis possibility may not be completely implausible.
I'm not sure whether this cultivar may be worth investigating.
Not sure whether it's worth posting this here but a passing reference to 'Liudmila' was also made in PalmsNorth.com by
Cameron_z6a_N.S.
, (location: Halifax, Nova Scotia) , posted May 15, 2013 :
" Some of the hardier types include the Glen Citrangedin, SanCitChang, Liudmila Ichandarin, Yuzu, Yuzvange, Yuko, Tai x Tri Hybrid, (Clem x Tri) x Clem, etc "
which shows that this cultivar was known about at least 6 years ago.