1
« on: Today at 04:21:05 AM »
Update
I soaked these seeds for about 5 days changing the water twice daily. Then on the 14th, I sowed them all. So far, only one has sprouted and it has been in this position for 2 days now.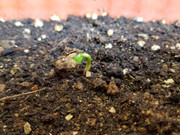 Feel like
assisting
it to remove the seed coat still stuck, but afraid I might damage the seedling.
Initially, this pot was under a neem tree. Could someone please confirm that this is not a neem seedling.