1
« on: October 19, 2018, 08:44:50 PM »
Kuganskaya fruit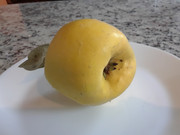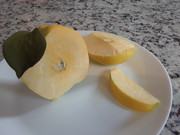 Now that it is more ripe, I can eat it (almost) just like an apple.
It is more acidic though.
But I will point out it's substantially less astringent than a Hachiya persimmon. In the two thick-cut slices I just tried I almost didn't notice
any
astringency at all! (Though I'm sure it might have started to become more noticeable if I had more)
Also to mention, the exterior of the fruit began developing a rich apple fragrance (not strong but slightly stronger than an heirloom apple from a tree).