91
Seems like Serviceberry or Juneberry (Amelanchier species) should have its own thread here.
There are a few random mentions of it on the forum but nothing consolidated.
I just harvested some from a parking lot flowerbed for the second time In a three year span.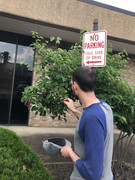 I was and am so surprised at how good these berries are. This treeís fruit is really sweet and refreshing, with flavors similar to peach or muscat grape.
For now my burning question is how to propagate this particular plant. I welcome all advice.
But otherwise I hope folks will post useful info of any kind pertaining to this fruit.
Thanks!