1
« on: Today at 12:59:00 PM »
There's some frost on the ground this morning.
Yuzu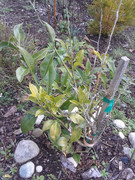 Sudachi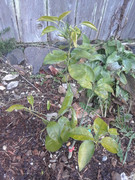 Changsha
tiny Keraji seedling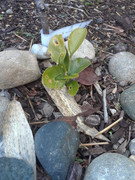 Ichangquat seedling
pictures taken Feb 26
It might just be me, but the leaves of most of the plants seem to be a slightly less healthy green looking color than they were a few days ago when we started getting some colder nights. (Even though the low points only went down to maybe 27, maybe as low as 24, depending on which official weather source you look at)
I guess even moderately low temperatures in the low 20s (F) can cause some moderate leaf damage if they hit late-February.
This is probably about the closest this area gets to a "late cold snap".
The leaves on the Ichang lemon in a container near the house (but left outside) look okay. I think it might be a little bit of a warmer spot since it's near the house which gives off heat at night. Glad to see the Ichang lemon seems to be handling temperatures better than it seemed to last year.