1
« on: February 08, 2019, 10:17:19 AM »
Very limited seeds, exclusively for people in Europe, Africa and Asia. These arrived to me today in vermiculite. Minimum order 4 seeds total. Send me PM and
no need
to post on this thread "PM sent".
Myrciaria aff. guaquiea "Purple guaquica": New discovery from Bahia with limited info. Most probably a separate species. Similar to yellow-fruited M. guaquiea (best taste in genus) but blue/purple fruit and smaller tree.
Sold out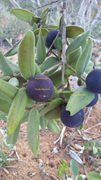 Plinia edulis (Cambuca): Jaboticaba-relative growing in popularity. Some say the taste is similar to papaya-mango-apricot. Berries are 3-6cm in diameter, with pulp recovery of 50%. Self-fertile (but increased production if cross pollination). Tree is densely foliated, ornamental, evergreen and though can grow 5-10m in cultivation is easy to maintain smaller due to its slow-growth and graft compatibility with Plinia cauliflora/jabotiaba. Cold-hardy down to -4 Celsius. Likes a lot of water.
sold out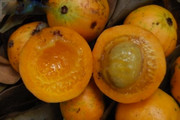 Alibertia sorbilis (Borojoa, Giant Marmalade Fruit): Similar to Aliberia edulis (Marmalade Fruit) but has jumbo (7cm) fruit with a more protective peel. Has a similar mass, consistency and flavor to tamarind (Tamarindus indica), although a little more sweet. The plant is a small, dioecious tree with leaves measuring 25-45 cm long by 15-20 cm wide. The pulp of the fruits is tasty out of hand, and also used in the preparation of juices, jellies and in savory dishes. Plant in full sun, in tropical or subtropical climates without frost. Adaptable to different types of soils, enjoying a certain humidity in them. It begins early fruiting. Family: Rubiaceae.
sold out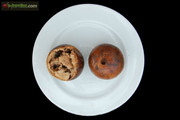 Psidium acidum (Pear Araza, Araçá-pera, guayaba de monte, sacha guayaba): Globose or pyriform fruit 8 cm in diameter, weighing up to 240 g. Much superior in flavor to regular guava. The seeds are large, much larger than those of guava (Psidium guajava) and less numerous, therefore easier to extract. Juicy and fleshy, acidic pulp. Consumed mainly in the form of delicious juices, creams and ice creams, which refer to the flavor of the European pear (Pyrus communis). It is a 3-7 m tall tree, with new quadrangulated branches and light green foliage. The leaves are printed and curled at the edges, lending an elegant look to the plant. It can be used successfully in landscaping small spaces. Adapts well to all types of soil. Starts production between three and four years.
sold out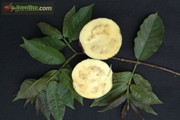 Postage and handling to Europe is
$9
. To Africa and Asia
$14