1
« on: August 13, 2020, 06:36:22 PM »
I bought this tree a year ago. Honestly, I did not want to. It was a miserable looking tree (it actually looks "better" in this picture than it does in person) but I had gone to someone's house to get it and did not know how to say no.
The picture below is exactly how the tree looked when I got it except it had 2 more leaves on it. It has not put out even one new leaf in one whole year. I gave up on it a couple of months ago and relegated it to the dig out and discard list.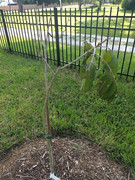 As a comparison, here is a Sri Chompoo now that I bought the same day from a nursery also as a 3 gal and planted at the same time.
I went to dig out the tree yesterday and saw signs of new growth! I can't believe it just sat there for a year and did nothing. Anyway, long story short, I would like to save the tree if it is going to grow but the few leaves that are on there are covered with small white bugs. I know it's not mealy bugs. Anyone know what they are and what I should use to get rid of them?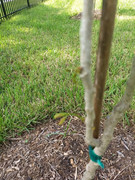 New growth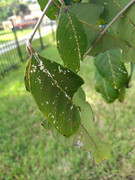 Tiny white bugs.