1
« on: April 16, 2019, 01:23:00 AM »
My three Ichang papeda cuttings have all begun to show signs of leafing out. Here's one of them: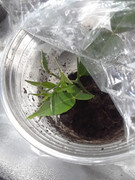 They are just small cuttings, but the cups are covered with plastic cling wrap to hold in the humidity, and the cups are inside a warm mylar lined grow tent enclosure in a warm room.
These are Ichangquat seedlings: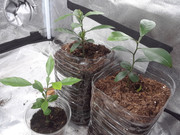 I have to say most of the Ichanquat seedlings are very vigorous growing, I think even more vigorous than Yuzu.
Now there are a few Ichangquat seedlings that are not as vigorous growing, and it certainly seems the Ichangquat seedlings show more variability than Yuzu seedlings.
The leaf characteristics on the Ichanquat seedlings also show variability. 2 of them looked semi-narrow, a little bit like kumquat, one of them looked narrow like kumquat, a few seem to have slight winged petioles like Yuzu, one of them with a slightly bigger winged petiole maybe more like pomelo, but the remaining six seedlings all seem to display rather ordinary leaf type. It's as if the two leaf characteristic traits of the original species parents cancelled each other out.
These seedlings are of course the second generation from the cross between Ichang papeda x kumquat.
(Much thanks to Ilya for the seeds)
I have been grow very many other types of seedlings and the only ones that are near as vigorous growing as Ichangquat are lemon and Oroblanco grapefruit.
(I've grown a few of each, so I think I have a large enough pool to make some statistical observations)
I have two US 852 (Changsha x trifoliate) and two TaiTri (Taiwanica x trifoliate) seedlings and they haven't seemed to do as well, only moderately vigorous growing and they've all displayed leaf yellowing.
Unfortunately I can't comment on Ichang papeda seedlings since I've never grown them. Vigor is a good sign for cold hardiness, I believe, although obviously not all vigorous citrus are cold hardy.