1
« on: July 07, 2019, 08:22:43 AM »
This seed came from Ilya, from an Ichangquat.
But I just noticed something, there was a tiny bifurcation in one of the leaves (something I immediately recognized from my mostly monofoliate citrangequat seedling), and when I looked closer I realized there was also a small bifoliate leaf, with two leaves coming out of the petiole. Obviously this isn't characteristic of Ichangquat, so if it came from Ichangquat, it had to have been pollinated by something else. I know Ilya has a big 5* Citrumelo tree in the vicinity.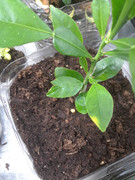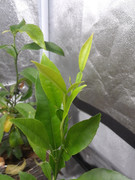 My Ichangquat seedlings have been quite variable in leaf morphology, so I know the seeds from Ichangquat must be zygotic, at least about half of them. This is the first one that's shown any indication of likely trifoliate leafed parentage though.
Maybe Ilya can shed more light on this.