1
« on: February 22, 2020, 07:06:28 PM »
The following three varieties were left outside over the winter, from left to right in the picture: Reinking pomelo, Satsuma, Yuzu.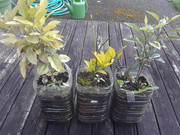 Notice the hue of the leaf coloration on each of them, there's a clear pattern.
The leaves on the Yuzu are the most green, while the leaves on the pomelo are the most yellowish. The Satsuma, perhaps not surprisingly, is intermediate in leaf color.
I actually have more than one of each of these, but they would have been too much to all show in the picture. They all look consistent within each variety. (So this experimental trial wasn't just one single specimen of each variety)
Obviously the leaf coloration is in line with the expected hardiness level of each of these varieties (with Yuzu being the most tolerant to colder temperatures out of the three).
I think this comparative picture of leaf coloration is very indicative of different levels of hardiness of these different varieties.
they are seedlings growing on their own roots
(Olympia, WA, zone 8a)