1
« on: January 11, 2021, 01:44:50 PM »
I found this article, hopefully some of you may enjoy.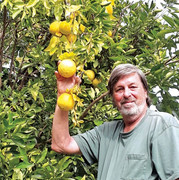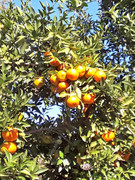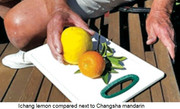 Growing citrus -- in Orangeburg! It takes work, but he has made it happen
T&D Staff Report
Oct 31, 2020
Steve Katzberg has been growing citrus plants in Orangeburg for years now, even though the area is not known for such.
"The plants I have were collected over several years. I have been growing these in Orangeburg since I moved back to S.C., where I was born," Katzberg said.
"The stories of attempts to grow citrus in the Charleston area plantations were further impetus to do a bit of research. While commercial attempts at citrus, even in the Lowcountry, failed as a result of the occasional cold snap, some oranges, kumquats and tangerines can be found in Charleston and the coastal areas today," he said.
"The citrus that I have collected are from seed given to me by other enthusiasts or purchased from the occasional plantsman who specializes in cold hardy citrus," Katzberg said.
"Before I moved back to South Carolina in 2005, I had been growing some of the specimens, while a few are more recent acquisitions. The transportation of some of the plants was an adventure that might itself be worth retelling. Most of the citrus in my yard have been there for 15 or so years."
Katzberg had more to say about his citrus plants:
"Early efforts to grow citrus commercially were unsuccessful, primarily the result of freezes that destroyed the trees. Still, today, one can find the odd kumquat, orange or tangerine tree growing in Charleston or elsewhere along the coast. Colder areas such as Orangeburg are even less hospitable to growing citrus than Charleston, virtually ensuring even more hopeless results than in the coastal regions, hence, end of story," he said.
Well, not quite.
Over time the accumulation of plant material brought back by plant explorers or produced by hybridizers greatly expanded the universe of citrus to choose from. The United States Department of Agriculture diligently attempted to find cold, hardy citrus that could be grown commercially outside the citrus regions of Florida, southern Texas and California.
"Most of these ended up in the curiosity department or the trash heap," Katzberg said. "A few, however, showed potential, if you accept them as they are and realize that grocery store citrus is limited to the area south of central Florida. Let me repeat this: No commercial citrus variety such as orange, lime, grapefruit or pummelo can long survive outside in the Orangeburg area without heroic protection effort."
"So, what characteristics does a citrus plant have to have to find a home and be welcome in the Garden City?" Katzberg asked. " Well, for starters, let's look at the environmental restrictions that need to be met. First, the plant must be cold-hardy enough. For commercial citrus, the minimum winter survival temperatures are lower 20s for some oranges, most tangerines, and some grapefruit. For most grapefruit and many oranges, mid-20s is all that can be tolerated. Limes and citron can only survive with cold temperatures in the 20s to lower 30s.
He said, "Orangeburg, named for the Prince of Orange and not the citrus, has a USDA zone 8B climate. That means we can expect minimum temperatures of between 15 degrees Fahrenheit and 20 degrees Fahrenheit over the long haul. Our temperatures have been through cold cycles that lasted for years. The USDA zone map was rocked in the 1980s by several years in a row of extreme minimum temperatures, down to the single digits. The zone map underwent a major revision, which nearly moved Orangeburg into zone 7B. Lately, however, we have been warming up. Global warming? Hard to tell, but it has pushed Orangeburg back into zone 8 again, and upper zone 8B at that."
Citrus fruit freezes considerably above the temperature at which there is wood damage. So hardy tree or not, the fruit could suffer catastrophically every winter with no crop. Late frosts can destroy the flowers as a further torment. Therefore, our second requirement is that the fruit gets ripe before the hard frosts of late November.
Finally, the fruit must be good to eat. Many of the cold-hardy citrus developed by the USDA are so bad that they are, as one man said, "not worth throwing at someone." Some are beautiful in flower, intensely citrus-fragrant and attractive as evergreen landscape plants. One such plant is the Morton Citrange, a cross between a very hardy bush from China called Trifoliate Orange and the extremely desirable Navel Orange. Unfortunately the trifoliate orange has an acrid taste imparted to the resulting hybrid fruit, making it worse than inedible."
"But there are a number of plants that are dynamite to grow in our area," Katzberg said. "Some are as sweet as anything from the grocery store, as useful as a lemon and as exotic as sushi. Let's start with the sweet ones:
First, originating in China, is the Changsha tangerine (Citrus reticulata). Hardy to well below 15 degrees, the plant grows to a height of about 10 feet with glossy, evergreen leaves. A specimen is known to have survived and fruited for several years in Laurens County. The fruit ripens in mid-October to spectacular deep reddish orange about the size of a standard tangerine. The fruit is extremely sweet with several seeds. It is great eating out of hand, juiced, or made into liqueur; the ripening season extends into November, making possible fresh-squeezed tangerine juice for weeks. The fruit can be stored in the refrigerator for about months, to extend the season.
Second is the Kumquat (Fortunella crassifolia, "Meiwa" and F. margarita, "Nagami"), a smallish fruit that is eaten skin and all. Historically grown in Orangeburg, the Meiwa variety has sweet skin and sweet pulp, while Nagami has sweet skin and tart pulp. The Nagami is also a strong natural antihistamine. Got a cold or hay fever? Pop one into your mouth and feel your nasal passages start to open up. The pulp can be easily scooped out, added to Cool Whip and cream cheese to make the filling for an easy-to-make dessert. A small tree, kumquats grow to about eight to 10 feet in height.
Third is the Ichang Lemon. Actually a cross between exotic Chinese citrus varieties, Ichang lemon produces huge lemon-like fruit, bigger than a softball on trees to over 15 feet tall. In April, the trees are covered with huge citrus blooms that fill the air with fragrance. The plants are extremely hardy, to the low teens, while the fruit ripens in late September to October. Useful from the time they first color up until they fall to the ground naturally in late November, these fruit produce a juice that works great for lemonade, lemontinis [lemon martinis] and pies. For the more adventuresome, the jumbo lemon peel can easily be made into limoncello liqueur as good as any you'll find at Fulton Five in Charleston. And they can be salt-cured. Moroccans cure lemons as part of their cuisine and you can do the same. Pick some of your jumbo lemons or just shake the huge tree; they'll come to you. Layered in a glass jar with sea salt, they will last months. Cook with skin-on chicken thighs.
[
Note: I think the writer of this article got a little confused here. It seems what they are actually referring to here are the "Ichang lemons" which are hybrids with pomelo, not the pure species Citrus ichangensis
]
Fourth, we have the Yuzu (Citrus junos). Highly prized in Japan, these rarely found tart lemon-lime fruit are used to make ponzu dipping sauce, yuzu vinegar and yuzu sours. The plant is about 11 to 12 feet tall, hardy to about 10 degrees and very thorny. Like its cousins, the small tree blossoms in early April.
Fifth is the Thomasville Citrangequat. This plant originated in Thomasville, Georgia, at around the turn of the 20th century and it is rock solid hardy. There have probably never been temperatures in the lower part of the Palmetto State cold enough to kill this tree. Bushy and robust here, the plant is covered a couple times a year with tons of small but fragrant flowers. The fruit ripens in November and sometimes gets hit with a frost. The fruit does not freeze until the low 20s, so generally it is unhurt. If the fruit makes it until late in the year, it can be eaten like a small orange-kumquat. The fruit goes great to cook with pork or, best of all, to make as good an English marmalade as in the "Olde Country." Just slice the fruit, soak overnight, add a little sugar, cook it down and put in a jar. Add a tot of Scotch whiskey to it to make Scottish marmalade. No sipping the Scotch while making the jam. Maybe bourbon would work too. Stuff keeps and tastes great on a biscuit or toast for years.
Finally, the Keraji tangerine. On its own roots, this small tree is like the others in the family but is not reliably hardy here. The fruit is small orange-yellow, extremely sweet and with few seeds. It has a tangerine-mild lemon flavor and makes a great fresh-squeezed juice. Oddly enough, Kerajis grafted onto trifoliate orange root-stock is cold hardy here. Getting it grafted is not all that hard to do, but is a bit outside our lane here.
"As another happy surprise, the plants listed here are 'pass-along.' The flowers are self-pollinating and the plant comes true from seed. Give your friends a seed or seedling from the plants above and they will be harvesting the same delicious citrus in a very few short years," Katzberg said.
"Planting these vitamin- and mineral-packed fruit trees or seedlings is easy. Pretty much any soil that doesn't stand in water will do fine. A yard with trees off to the northwest or north side helps to keep winter cold off the trees, and a south facing side of the house adds extra protection," he added.
"Since these plants, except Keraji, are not grafted, the odd cold snap or late spring frost might freeze them back, but they will likely bounce back in the summer and be back ripping and snorting in a couple years. Oh, did I mention that pretty much all citrus is thorny? I have the wounds to prove it, so be careful when harvesting."
Katzberg said this guide is meant to acquaint the amateur horticulturist and gardening enthusiast with citrus varieties that can be expected to thrive in the Orangeburg region. Citrus is an abundant source of healthful nutrition as well as adding fragrance and beauty to the garden. The specially selected citrus discussed here are easy to grow, easy to maintain, and reliable for carefree planting.
https://thetandd.com/business/agriculture/growing-citrus----in-orangeburg-it-takes-work-but-he-has-made-it/article_eb841c5d-b40a-5ebb-804a-d726b2a8cc8a.html