1
« on: February 24, 2019, 05:11:05 PM »
Hey LAAZ
I bought some Swingle and Rubino Clementine seeds from you in December of 2016 and planted them in a seed starter on January 1 2017.
Here is a picture of one of the Swingle trees I planted in ground when it was about 6 months old, it is now 8' tall in just over 2 years.
A question I have, is what is your experience with this variety, how long to flower the first time and has this been a good root stock for most orange varieties for you?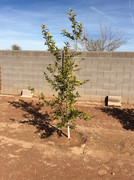 The Rubino Clementine seeds were fantastic, out of 6 seeds I got 9 plants, I have read that many others had the same experience with them.