1
« on: January 04, 2019, 03:41:25 AM »
Since it was mentioned in the Sudachi topic, I thought I'd share a pic of mine.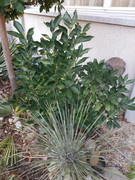 In short: Fruit can ripen here but, at least as a small plant, it is not coldhary enough for my place.
I planted it in 2015 and it survived its first winter with a low around -8C without a problem.
In the winter 16/17 it lost 3/4 of its leaves and half of its twigs to around -11C. I had protected it with three layers of fleece. We had some long-lasting freezes with many consecutive days below 0C which is what I believe did the damage. It grew back well and even flowered again but dropped the fruit.
I protected it with styrofoam in the winter of 17/18 and it has grown very well this year. Unfortunately no flowers.