1
« on: Today at 07:53:38 PM »
Iíve been doing a lot of bark grafts lately and I found that the regular bark graft often leaves a large gap which takes a long time to fully heal.
Here is a typical bark graft video
https://m.youtube.com/watch?v=sk_sgkLzD5c
When I do a bark graft like that, it is difficult for me to make the parallel cuts to the bark of the rootstock so that the cut perfectly matches the width of the scion.
Here is a Sweet Tart scion I bark grafted onto a two year old seedling using the regular bark graft as shown in the video above.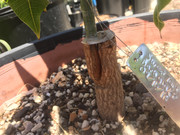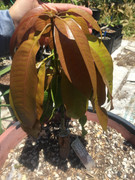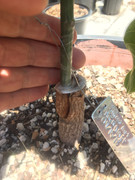 For my modified bark graft technique, I perform the graft the same as in the video except I make the the two parallel cuts wider than the width of the scion. This will ensure that the bark i peel back is wide enough to cover the entire cut ends of the scion.
After you make the oversized cut, you insert the scion and match one end of the bark flap so that it completely covers the cut end of the scion. You then take your blade and make an additional vertical cut that follows the contour of the other cut end of the scion.
By doing this, you can precisely match the bark flap to the size of the scion leaving as small a gap as possible between the bark flap and the bark from the rootstock.
Here is a picture after I made the additional cut following the contour of the scion.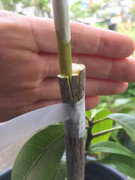 Now you can tuck the extra sliver of bark next to the bark of the rootstock. If you wrap it carefully, the extra sliver you cut is hardly noticeable, especially after it heals.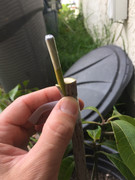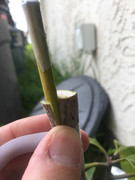 Here is a double bark graft I did last year using this technique. If the rootstock is large enough, I sometimes put two or three scions onto the tree in the hopes that at least one will take. Now that Iím getting better with this technique, I will only put one or two because this technique has a high rate of success for me. The bark does have to be slipping to do bark grafts.
I couldnít decide if I wanted this branch to be Sweet Tart or Lemon Zest so I put on one of each variety. Since they both took, I will probably remove the Lemon Zest since I have several LZ trees already.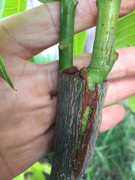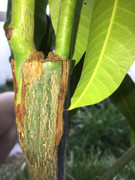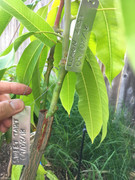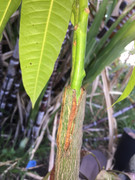 Simon