1
« on: July 07, 2018, 07:26:20 PM »
I just received my box of Mulgova Mangos grown in India from Mangozz.com. We are in the midst of a heatwave here in SoCal and I was very afraid that the Mangos would not last long in the extreme heat, especially when I discovered they were not shipped overnight.
When I opened up the box, I was happy to see that the Mangos were well insulated in a spongy material to prevent bruising injury. I could definitely smell the Mangos when I opened up the box but the aroma was gentle and smelled similar to a Kent mixed with Haden and I didnít detect any Indian resin smell. When I picked up the Mangos, they were very very warm to the touch and fully ripe. One of the Mangos has a slight cut and soft spot on it so I immediately cut it open.
When I cut open the fruit, I smelled everything I described earlier plus I detected the Indian resin smell that is so popular with varieties from India. The flesh was soft and melting with a bright orange color. The flesh was super juicy and fiberless.
I was expecting this Mango to blow my mind because I saw Chrisís videos from Truly Tropical and she described it as excellent tasting but not very productive. I figured a Mango that is unproductive and huge must be pretty good to keep around. This mango is very good but this first fruit I sampled was not outstanding.
It had a slight creamy mango taste to it and the flavor profile of the center flesh( away from the skin) tasted like a combination of Kent/Haden and Banganpalli. The flesh closer to the skin tasted very much like Banganpalli with a lot more Indian Resin taste than compared to the flesh from the center. The flesh next to the skin tasted almost identical to Banganpalli.
This Mango was very well rounded in that it had excellent sweetness(Brix 22%) and a good balance of typical Tropical Mango flavor with some Indian resin mixed in. There was no detectable acidity, similar to Kent/Haden and I will try to eat one of the other fruit slightly more firm to see if there is a difference in taste.
A very good Mango but I prefer Rajapuri over this Mulgova because Rajapuri has a more complex mix of flavors. Perhaps the other fruit that arenít as over ripe will be better. Iíll report back on how the others turn out.
Simon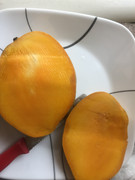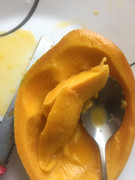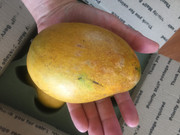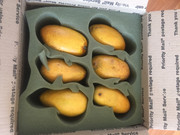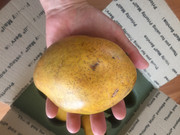 Simon