1
« on: January 22, 2019, 07:52:29 PM »
the Last couple of days have been pretty windy and I just got home from work and noticed that two branches of my Shiranui(Dekopon) were snapped in half. Iíve noticed that Shiranui, like most tangerines, tend to hold too many fruit on their branches. I thought I was smart and thinned about 70% of the fruit when they were about marble size but that just made the remaining fruit bigger. My larger fruit are as big, if not bigger than the store bought Premium Dekopon fruit. My largest weighed about 1 lbs 2 Oz.
Anyone else have issues with their Shiranui grafts? The fruit were already colored up but I was hoping to let them hang a bit longer to sweeten up more. I just cut open a smaller fruit to take a Brix reading and it came in at 14% Brix.
Without curing the fruit, the flavor was good with good sweetness and an acidity similar to an Orange. I will cure some of the fruit in my garage for 1-3 weeks in order to let the citric/ascorbic acid mellow to see if flavor improves. Here are some pictures of the fruit harvested from the branches that snapped off.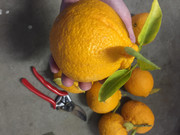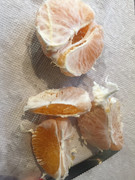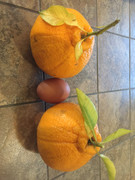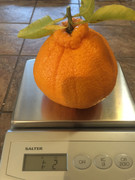 Simon