1
« on: January 10, 2019, 11:53:25 AM »
What I believe to be two Rangpur lime cultivars.
Citrus limonia
Smaller, round, smooth fruit.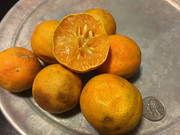 Larger thicker peel. Nipple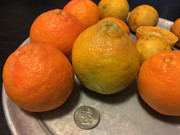 A lot of the larger ones seem to look the same via link below. I am alsp curious about the cultivar of the smaller one cut open. I can cut the larger one if it helps or is needed. Thank you, any help is appreciated.
Cultivars via
https://citrusvariety.ucr.edu/citrus/rangpur_types.html