1
« on: June 06, 2019, 06:58:26 PM »
It is an honor to invite you all to this event being put together by The Rare Fruit Council Int'l., (RFCI), Miami. Mr. Whitman was one of the founders of this organization in 1955, & was its first President. We will be convening at The Fruit & Spice park this SAT - June 8th from 2PM-5PM for a Fruit Club Meetup.
William "Bill" Whitman Day & Longan Celebration - Florida Fruit Club Meetup #BillWhitmanDay
JUNE 8th, SAT (2-5PM) at THE PRESTON B. BIRD & MARY HEINLEIN FRUIT & SPICE PARK, in Homestead's bucolic Redland Agricultural Area.
https://www.facebook.com/events/1450662725070418/
Hosted by The Rare Fruit Council International, RFCI Miami in cooperation with the Fruit & Spice Park & the Tropical Fruit & Vegetable Society of Redland
Members of RFCI Chapters & Florida fruit clubs are welcome to celebrate Bill Whitman's legacy, and what he contributed to the advancement of pomology through the 'Kohala' longan and many other plants. Whitman is one of the founders of The Rare Fruit Council International, Inc. (RFCI) Miami, which was founded on March 11, 1955 as the Rare Fruit Council.
Admission to the F&S park is to be paid at gate, more info at their website.
Perhaps you'll bring something to share with fellow fruit enthusiasts … fruits, seeds, scions?
The RFCI looks forward to welcoming you to Homestead's Redland.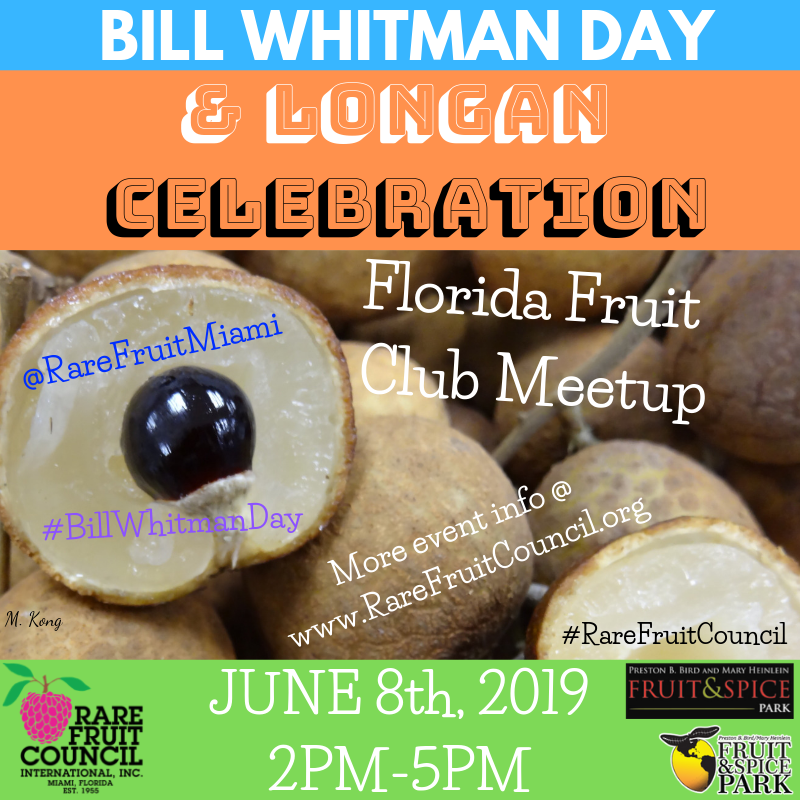 Miami News - 1959