1
« on: December 14, 2019, 06:48:27 AM »

Mark,
I have a row of mandarine oranges growing on the south side of my house.
I used to have a bad issue with black soot mold from the mealy bugs that fed on a nearby hackberry tree.
They would drop sugar onto the leaves which fed the mold.
That tree departed this world a few years ago... and so has my black soot problem.

Although I occasionally see black soot mold rearing its ugly head from scale bugs.
But only on the containerized citrus.
The citrus in the ground gets enough cold every winter to keep the insects at bay.

Kevin

I loaded up a hose on garden sprayer with a mix of Ivory soap, blasted the soot off, rinsed. Even though I quickly followed up with a blast of well water and then rain water for some strange reason a lot of my blood orange leaves fell off at the petiole. Looks weird, a 100 big toothpix lined up on branches.
Did a lot of citrus grafts too last year. Still haven't picked any Marrs oranges. They are as big as grapefruits. This is a graft on a key lime tree that's produced at least 300 awesome limes. Am getting limequats too from grafts.
November: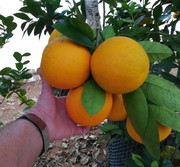 Quaffing (not shooting) Casa Noble Anejo (try this one!) with key limes never tasted so good.