226
« on: March 19, 2017, 06:42:01 PM »
Hi everyone
I am new to this forum. I have an ichangensis IVIA and Ilya is right when he says the fruit is quite edible (that is compared to other ichangensis cultivars or Poncirus). My plant is still small and the fruit might become bigger as the tree grows larger. There was not much pulp in the fruits I have harvested so far
but there is
, in contrast to other ichangensis cultivars. The juice is usable just like lemon juice. Another plus is the fact that they ripen even in our cool summers.
I know reports from Germany of trees surviving down to -18C but I don't know about the IVIA. I haven't tested mine yet since I want to let it grow a bit larger first.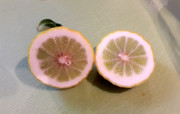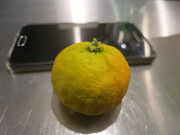 If in the future it should contain more seeds, I will be happy to share them.
cheers