26
« on: May 26, 2019, 04:48:16 PM »
Widespread outside cultivation happens just in zone 9b, you can find folks that grows them outside in zone 9a in good/sheltered spots, but the plants are going to die eventually. Regarding the zone 8, there are basically no plants outside in winter, people grow them in pot and bring them inside. To be fair, most of the historical collection in central italy were grown in pot just because of that, rich people moved lemon in building made exactly for this reason called limonaie, and there they were kept and they could be also heated when needed.
There is an interesting exception to that. Well, the lemons weren't exceptionally cold hardy, but the place is microclimatically interesting: and those are the glacial lakes in nothern Italy, where in a couple of place they grew lemons due the warmer enviroment due the presence of the lake.
I wonder what kind of madman saw a glacial lake and said "i'm going to grow lemons here" but it did work!
I have been there last autumn. Keep in mind that place is 40 miles from Switzerland. This is the landscape: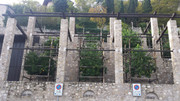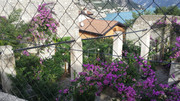 Amazing micro/nanoclimate in my opinion.
There's also a place there called "Limone sul garda" (
https://it.wikipedia.org/wiki/Limone_sul_Garda
)which sounds pretty much like "Lemon over the Garda lake" wich coincidentally has a widespread lemon cultivation. Such structure you see in the pics were used to put some trellis on lemons in order to defend them by light frosts in windless nights. If i were to search for an hardy lemon that is a good place to start, i guess, even if i don't know how much of the original clones may be still alive there. AFAIK no especially hardy lemon is widely grown in italy.
USDA zones are not so good for evaluating italian climate because i'm under the impression that our winter days are darker and cooler compared to same USDA zone of the east coast, and our spring/autumn are longer and also on average cooler (in same usda zones i mean).