376
« on: June 04, 2013, 06:12:54 PM »
Hello again
Sorry for my late replies but it's not easy to keep an ongoing conversation with some 5 or more hours of "jet lag" between Portugal and the rest of you guys. Here are the answers to your questions:
To ScottR:
All my plants of Ubajai are from the same seed batch received from Helton on October 2007, so they have 5 years by now... just one of them flowered and fruited for the first time now... just two fruits tough... the one on the previous photos and an even bigger one that is still on the tree and that should ripen during next days...
to Luc:
My seeds were not loose...I think you still can see some fibers attached to the seed on the photo... I will try to take a photo of the inside of the other fruit when it ripens...if the birds don't get there first!... I'm letting it overripe to see if I can sense some strange odor (like the one reported on the Uruguayan article) because I didn't noted nothing wrong with the odor of my first fruit.
I took a photo of the leaves to show you the differences; the 2 leaves on the left are from the tree that fruited, and the one on the right is from the other Ubajai with the bluish tinged leaves (not really noticeable now but the blue tinge is very evident when the leaves are younger)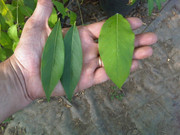 This difference on the leaves shape, color and general aspect was evident right from the beginning and in fact I always treated the tree with the slender/greener leaves better than all the others because it was prettier, and diferent... don't know if this is the reason why it fruited first... and I need now the get one of the others to fruit to see if there is some noticeable difference on the fruits also...
Regarding the taste of "garlic" on these species former classified as "Hexaclamys spp." I have one that really tastes like garlic... seeds arrived also on the same package and if fruited last year for the first time... it arrived labelled as Hexaclamys tomentosa, and now I believe Helton calls it Eugenia anomala... this one is pure "garlic"!... last year photos next: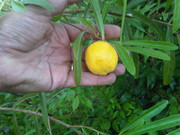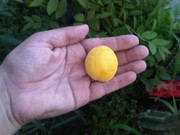 The fruit shape and color is very similar to the ones of the Ubajai that fruited this year, but on this Hexaclamys tomentosa the leaves are much more slender and the tree habit is more "Bushy"... Is it possible that I have an hybrid between these two Hexaclamys spp.