1
« on: April 16, 2019, 01:18:28 PM »
Alright! Fresh California-grown fruit!

As far as I know, there's nothing too special about germination. Seeds just land on the ground where they're stratified/weathered for the winter or longer which reduces the amount of germination-inhibiting hormone in the shell and seed coat and some get worked into the dirt or buried by leave litter so they germinate all at different times.

It's not endangered or anything. A friend on FB posted photos of huge yangmei trees lining the streets of Tokyo. I guess they grow well there.


What is huge? How big do they get?

They all seem to be males.
There's one on Uchinada beach, in the sand by the road side with maybe wind and salt burn on the leaves. That one's about 8ft, with male flowers.
There are huge trees at a park in Yokohama.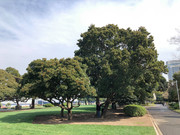 There are some near the Hiroshima A Bomb site, maybe 2 stories tall. There's a photo of one 3-4 stories tall next to an apartment building that I can't tell if it's yangmei.
There are street trees in Tokyo, pruned to narrow canopies.