1
« on: September 06, 2019, 08:04:49 PM »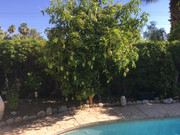 Lemon Zest is one of my all time favorite Mango varieties but my young trees set very few fruit. This picture above is a Lemon Zest tree grown in Palm Springs California by Gary and as you can see, his tree consistently sets good amounts of fruit, he probably had 60+ fruit this year.
I would like to gather information from members that grow Lemon Zest in hopes that we can come up with a strategy to improve yields for this excellent tasting variety.
I know that in hot and dry Palm Springs, Powdery Mildew and other fungal diseases are not an issue and this is likely why Gary gets such good yields from his tree.
Over the years, I have harvested a few fruit here and there from my various LZ trees but Iíve never harvested more than 3 fruit per tree( excluding nubbins) from any one tree in a given year. I do not spray my trees with Fungicide unless they have an obvious fungal infection but I will probably start a fungicide spray regimen in hopes of increasing yields.
I know that in some locations in Southern California, fungal diseases are not as much of an issue and in those counties, LZ probably has a decent to good yield.
I would like to hear if anyone has successfully increased yields for their LZ trees wether you are in Florida, SoCal or some other location. Iím especially interested to hear from individuals that initially had low or no yield and then saw a significant increase in yield after they started a Fungicide regimen or alternative method to increase yield.
I have heard from two growers that say their trees started setting and holding significantly more fruit after their trees reached a large size.
My tree set a good amount of fruit this year and last year but most the fruit dropped at around 2 inches in length which coincided with an increase in temperatures.
As soon as the fruit dropped from my trees, my tree exploded with vegetative growth. Iím wondering if I can decrease fruit drop by slightly backing off on watering. I already back off on Nitrogen pre bloom.
Any observations or comments are greatly appreciated.
Simon