1
« on: May 06, 2023, 02:47:15 AM »
I read that quince province B29-C dwarfs the rootstock to 60% of a seedling size for loquats.
I'm using this one just to see but the plant grows so slow I didn't graft onto yet.

Is this the "C" you mentioned?



No they are not the same. C is likely to be more of a true dwarf rootstock than BA29C, however less tolerant to wet soils (should be better suited for us here in SoCal).. Here is a comparison chart I found a while back ..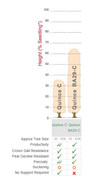 It does seem that BA29C is more commonly available outside Europe. where did you source your BA29C rootstock ?