1
« on: June 02, 2022, 06:50:19 PM »
I am very sad to announce to the community that Leo Manuel has passed away this week. I just stopped by to give my condolences to his family and they are very appreciative of the support they have received.
Leo was a pioneer in the rare fruit community and he frequently opened up his yard for tours, especially for CRFG members.
Leo played a huge roll in getting me hooked on growing rare fruits and he also mentored me in my early years of grafting. Leo grew many different types of fruit in his yard but he especially loved his Mangos, Lychees and Annonas. Had I not met Leo way back when, I would probably not have discovered one of my true passions in life.
Leoís passing is a huge loss for the rare fruit community and he will be dearly missed.
Iím not exactly sure whatís going to happen to all of Leoís fruit trees but there are several people that have volunteered to help out with the yard.
Here is one of the last group pictures we had at a fruit tasting pre-COVID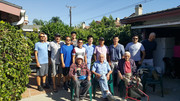 Here are a few links with pics of Leos trees
https://tropicalfruitforum.com/index.php?topic=3188.0
https://tropicalfruitforum.com/index.php?topic=18187.0
https://tropicalfruitforum.com/index.php?topic=13514.msg171283#msg171283
Simon