901
« on: October 30, 2013, 07:53:22 PM »
Here are some pictures of my dragon fruit. Earlier in the summer, they were quite large, but I got mad at them for not blooming and chopped them down. Then I felt bad and repotted them and built them the new, smaller trellises.
This was last spring (sorry, it is hard to see them behind the cacao that is covered with grasskeet "anti-landing devices") -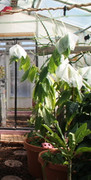 Also, the stems never got thick, they just got VERY long and spindly, like they are now.
More light, you think? Can I have success with artificial light, if the natural light isn't enough? I have burned them several times trying to put them in full sun.
These were just taken a few minutes ago -