1
« on: March 17, 2019, 01:35:09 PM »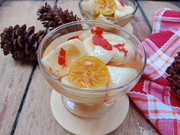 I call it
Pickle Ice Snake Fruit
but first thing first you need to have all the ingredients ready.
1 kg Salak Pondoh / Pondoh Snake Fruit Peel it & slice it
10 pcs Orange Slice it into two pieces
Hot water Sufficiently
Sanding sugar Sufficiently
1 spoon Salt
8 pcs Chilli Pepper Mash rather smooth
Now follow this step :
1. Wash the snake fruitís pieces and then put aside.
2. Squeeze the orange and put its skin into the bowl.
3. Add hot water, sanding sugar and salt.
4. Stir until the sanding sugar dissolved.
5. Add the chili pepper and stir it again.
6. Add the snake fruitís pieces into the bowl.
7. Put the bowl into a refrigerator.
8. Serve it when itís cold enough.
Be the first to try it out and comment your result here.. Good luck