1
« on: March 22, 2021, 07:52:34 PM »
So, I tend to get periodic outbreaks of mealy bugs in my greenhouse, and it seems like they bounce back pretty quick after treatment. This made me wonder, are these NEW bugs, or are they old bugs that have "recovered"?
So I set up an experiment - 4 mealy bugs in 4 little plastic containers. Each one got a "dose" of a drop of one of four things applied directly to their squishy little bodies- "all season" horticultural oil, alcohol, pyrethrin+sticker, and just because I had some handy, Physan.
I killed the first few by accidentally squashing them, until I started giving them their "dose" while observing through my USB microscope.
The verdict - NOTHING killed them in the first three days. By day four, only the horticultural oil recipient was dead. The alcohol bug is very revved up, doing laps in his little container. Following closely in energy is the Physan bug. The py+sticker dude is moving weakly, occasionally falling onto his back and waving his little legs, then righting himself again.
They all appeared to lose their waxy coating at first, but once dry, they all gained it back again.
By the time he died, the "Hort Oil Bug" was only about 50% covered with his wax.
Makes me go Hmmm...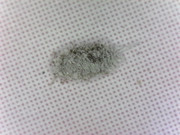 Mr. Alcoholic Mealy Bug