1
« on: March 13, 2023, 02:17:31 PM »
(z86 x d370) x (v shuttleworthii x v aestavalis)
If I didn't know better they look like aestavalis or similar lubrusca type leaves. The mother which is mostly vinifers European grape looks like aestavalis though it has a decent amount of aestavalis in it. Father looks half way between aestavalis and shuttleworthii.
I have been neglecting them they were bone dry with no water for several weeks. I transplanted them to bigger pots so they'll grow better. They have really good roots would be good for root stock. Surprised a lot are suceptibile to black rot though aestavalis here is pretty suceptibile. South Florida has the highest disease pressure for grapes as anywhere in the country so they'll grow better anywhere else including north Florida.
This one has a lot of black rot holes in the leaves. I killed one because it had a lot of black rot. Sadly 2/3 of these will be males with no grapes 1/3 female.


This one is beautiful. No black rot. A tiny amount of rust fungus. More disease resistant than wild aestavalis. Shuttleworthii level disease resistance so far. These are 1.5% muscadine.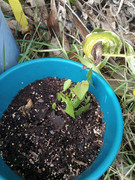 This one is tough but the tiny pot was a problem. I'll probably get rid of it because I don't have space. Awesome roots.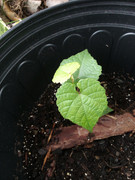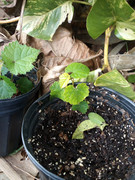 Last one. This one shows muscadine level disease resistance. Actually better than most muscadines because even they get black rot here. Ideal mix of tough genes from muscadine, aestavalis and shuttleworthii. Definitely keeping this one. Grapes should be better than muscadine too but hard to say. I would rate aestavalis a bit lower than muscadine, shuttleworthii a bit higher, the female parent had awesome grapes better than the store though a bit small.