1
« on: September 24, 2023, 07:39:50 PM »
Thought I would post a few interesting photos from a few of my fruit trees.
The First photo show a multi grafted mango tree but the right branch is a Peach Cobbler graft from 2020 with is holding a number of fruit. I also have PC grafted onto another tree with adddational fruit developing. This variety apears to be well suited to California.
The second photo shows my (3) year old Carmen avocado tree with a recent Sharwil Graft. The 3rd photo shows the Sharwil graft Close-Up which was grafted in July 2023 and growing very well. Very happy how this graft turned out. It's nice to have a type "B" avocado grafted onto a type "A".
Johnny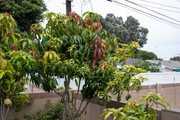 Multi Grafted Mango with Hanging Peach Cobbler fruit
Carmen Avocado Tree planted in 2020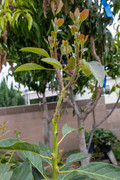 July 2023 Sharwil Avocado Graft to Carmen