1
« on: November 23, 2022, 12:08:28 PM »
Waitied until fragrant, about 3 days since picked. Opened a softer one this morning, the outside of the fruit smells medicinal and almost like mothballs or some kind of cleaner it's a familiar scent? Tried the inside jelly with the flesh, sweet and floral. Tried the whole fruit with the skin, very nice sour and sweet combo. I don't mind the skin at all atleast on whatever this variety is it's good. So while I did pick them before they dropped off the bushes, they were mature enough that they are able to ripen inside after a few days.
Freshly cut. Are they supposed to be more yellow? It did turn a little yellow after oxidizing.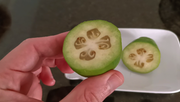 Gave another ripe one to my father who hasn't had a feijoa in 50 years since leaving Uruguay, he enjoyed it!