1
« on: September 11, 2022, 12:41:21 AM »
Bought a 3 gallon Booth Seedling from a nursery a few years ago. Tree is about 8-10 ft now and I have 5-6 different varieties of cherimoya and atemoya on it. I've had Fino de Jete and Pierce branches produce fruit as usual. But, the rootstock fruit do not seem to develop all the way. They just stop growing. I think the largest one last year was about the size of a billiards ball.
All were hand pollinated and are on different parts of the tree. I thinned the fruit heavily this year so I could make sure that was not the issue. I only kept 8 fruit on it this year since I have another fruiting tree. Still same result.
Here is a picture of what the fruit looks like: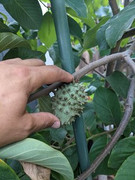 And here is a picture of a pierce that was pollinated about 3 weeks after that fruit: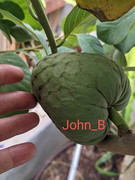 Anyone else experience this? Just a bad fruit on this rootstock? I assume I may need to do heavy pruning this year to top work this tree. Not too excited if that's the case.
Also, LM3 doesn't seem to keep up with the cherimoya grafts on all my trees. Not as vigorous, I guess. Will probably axe them but try to graft on a small seedling. The super AP has no problem keeping up.
On another note, hoping this seedling tree is a winner. Fast growth, handling the heat, and set fruit fast.