1
« on: August 01, 2022, 11:44:34 AM »
I cassine is dahoon Holly
There is proof Yaupon leaves that contain caffeine were traded all the way from the south to Near central IL. (by saint Louis MO about 10 miles East) (at bottom of this post see image of Illex vomitica / I. cassine )
https://www.pnas.org/doi/10.1073/pnas.1208404109
Abstract
-Chemical analyses of organic residues in fragments of pottery from the large site of Cahokia and surrounding smaller sites in Illinois reveal theobromine, caffeine, and ursolic acid, biomarkers for species of Ilex (holly) used to prepare the ritually important Black Drink. As recorded during the historic period, men consumed Black Drink in portions of the American Southeast for ritual purification. This first demonstrated discovery of biomarkers for Ilex occurs in beaker vessels dating between A.D. 1050 and 1250 from Cahokia, located far north of the known range of the holly species used to prepare Black Drink during historic times. The association of Ilex and beaker vessels indicates a sustained ritual consumption of a caffeine-laced drink made from the leaves of plants grown in the southern United States.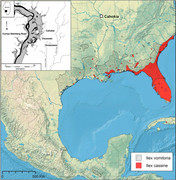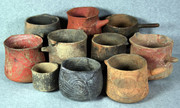 Edit I have a few things on it
there are some people in Texas going around, and removing for the land owners
to sell tea (I have links if anyone is interested, but need to dig for them. )
The wood is pretty as well it's like pure white, and curls like horns.