1
« on: September 18, 2022, 02:33:59 PM »
Since I am a madman and when I get one plant of a genus I need to get more I acquired a Paullinia pinnata - Tietie from Ertdude (RIP) a while back.
While not much is known about the caffeine or stimulant properties of this plant (like Paullinia caupana - Guarana) the fruit is supposed to be larger and edible, as well as the leaves being used for a vegetable and the vines as cordage.
https://tropical.theferns.info/viewtropical.php?id=Paullinia+pinnata
Well a while back I got my first flowers!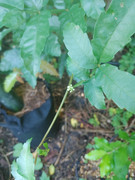 I really thought I killed this one when I was lazy about bringing it in last year but it has come back with vigor now. I brought this one with me to the bay area so it will continue to be monitored and loved.