1
« on: April 11, 2023, 01:32:50 AM »
I have many California Coffeeberry seedling trees (California Buckthorn aka Frangula californica aka Rhamnus californica).
I have eaten the berries - and also made a "coffee" like drink from the seeds in the past. There are mixed reviews of the fruit online, beware. It is a very attractive tree though when full grown with berries.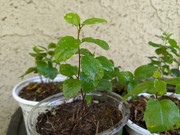 $5 each. Local pickup. Redlands, CA. Singles, doubles in containers and more.