1
« on: October 02, 2022, 10:19:35 AM »
As the title said I'm selling red hybrid and blue (vex.) jaboticaba.
That red are from my tree the blue are from f&s Park.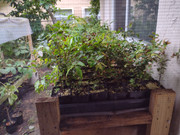 Heres a typical shot. The reds don't like my city water on their leaves so I plan to pot them up and put them on drip.
I'm selling them in a set of 4 (mix and match) for $50. Shipping included.
Can't ship to CA or other states that don't allow it.
Pm me if interested.
I should have enough to fill a few boxes.