1
« on: December 28, 2021, 04:03:25 PM »
I purchased this mango tree several months ago from a seller on eBay from Florida. He indicated this Sugarloaf was grafted by a friend and he sells them at a local flea market. The seller claims the grafter is very reputable and had a high level of confidence this tree was indeed a sugarloaf.
Based on the photo and the flower formation can someone tell me if this looks like a Sugarloaf (E-4)?
Even in my greenhouse, this small tree is flowering but it does get cold (40-50F) at night. Interesting this is my only mango tree that is flowering so robustly in late December. I plan on using this tree as grafting material in 2022 on older more established mango trees already in the ground.
Thanks
Johnny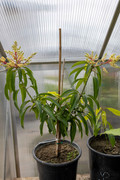 Sugarloaf Mango Tree