1
« on: December 16, 2022, 07:14:43 PM »
Good to hear Simon about the production of PP in SoCal. I hope my young tree does well in the next several years.
Included is a recent photo of my Pineapple Pleasure on Altaulfo rootstock planted in the ground from a #15 pot in the summer of 2022. Hoping for some fruit once the tree puts on more girth.
At my location, we get freezing temperatures (Below 32F) once every 6-8 years, but many variables and microclimates vary from site to site.
Johnny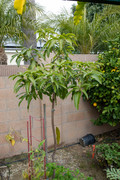 Pineapple Pleasure Mango Tree (12-2-2022)