151
« on: October 27, 2019, 04:22:15 PM »
An update: It (Peach Cobbler) hasn't done much. Just a smidgen of growth: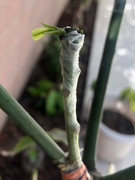 The other graft (Orange Sherbet) on the same tree started pushing. The tips just started drying up, so it may have been the recent heat/dryness, although the PC doesn't seem affected?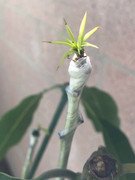 This is the tree: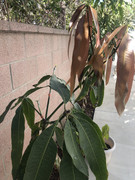 The new flush to the right started after the initial post above and has progressed quite a bit, so it looks like there should be sufficient energy for the grafts, but not sure how to get more of the super juice to go to the grafts. I rubbed out all other buds that were pushing on the tree, but left 3 on that one branch, to allow for some net new growth in case neither of the grafts were successful. Should I just cut those off too?
I started thinking the rubbers might be girdling somewhat, so unwrapped a bunch of grafts to satisfy my curiosity. For some, I could feel the impression left on the host branch, so maybe I wrapped too tight?
This is the PC union: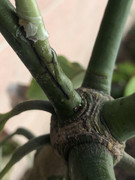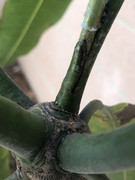 There was a lot of extra sap that had oozed out under the wraps. Some had hardened, but the whole joint was still pretty oozy.
This is PC#4 on another tree, that had even more ooze out (the big blob still being visible). No other grafts have had as much ooze out, or at least still wet at the time of unwrapping.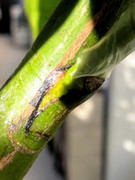 It had also pushed out a bud, but has also kind of stalled, while another graft (Fruit Punch) continues to push.
Finally, this one (Sweet Tart) doesn't look like it'll make it: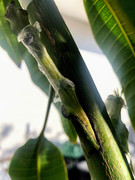 I rewrapped all the unwrapped grafts with just parafilm for now. Interesting to see things progress at various stages or with varying results, and then guessing what may be happening.