1
« on: May 12, 2020, 11:25:07 AM »
So... I'm baffled. While caring for my plants, I found this fruit on the ground. It had been stepped on and was highly mangled, so I don't know what it originally was. But some key characteristics can be seen - the four-pointed puckered shape at the bottom, red skin, soft / juicy orange flesh, and a single large round seed. There was enough of the flesh left unmangled for me to try it - it tasted very much like plum.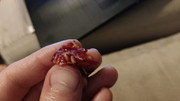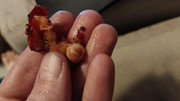 My first thought was strawberry guava. It was right next to a plant that (at least according to my records, and certainly by appearance) is strawberry guava, and it's been blooming a lot recently for the first time. I hadn't seen any fruit on it, but another one of my strawberry guavas has its first immature green fruit on it (tiny little plant, I'm amazed that it can hold fruit!). But beyond the flesh being wrong, strawberry guava has small seeds, not a single large one.
The single large seed makes me think eugenia. Indeed, there was also a rainforest plum right next to it. But it's another tiny, tiny little juvenile plant, maybe 15cm tall, and I hadn't seen it bloom. Certainly doesn't look like a ripe rainforest plum. But maybe half ripe?
My acerola is fruiting, and it overhangs a bunch of other plants, and the fruit could roll. But that certainly doesn't look like acerola, esp. since acerola has three irregular seeds per fruit.
There's so many other plants on overhanging shelves or overhanging or growing around generally around the room, but apart from some capsicums, none have visibly flowered or fruited, and most are varieties that one can rule right out, like cocona, garcinias, jackfruit, lychee, passiflora, palms, mangoes, coffee, tamarind, physalis, mamey, annonas, citrus, and on and on and on (it'd take some time to compile an exhaustive list).
(There's no possibility that this was some sort of supermarket fruit, as I haven't been to the supermarket since March
).
Thoughts?