1
« on: January 29, 2023, 11:09:05 PM »
Hey all, just wanted to share my excitement here but I have a couple questions about my tree also. I planted a jackfruit seedling in August 2020 that was about 2 feet tall, I noticed male flowers in September of last year and I'm seeing the first female flower just coming out of its sheath yesterday morning.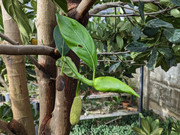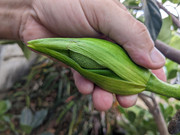 My questions are these, how can you tell the difference between a pure jackfruit and a chempejack? Is the way they flower different from one another? How about the leaf shape when they're young?
I ask about the flowers because this particular one is on a new branch with 2 male flowers behind it, with a leaf at each flower node and the branch got progressively fatter towards the female flower. And the question about the leaves is because when it was young it had tri-lobed and bi-lobed leaves just like some seedling chempejacks that I have planted.
Also one more question, should I try to hand pollinate the flower and should I expect it to hold a fruit? The tree is about 15 feet tall, I pruned it down to about 8 at the start of the rainy season here, back in April. The main trunk is probably 4-6 inches in diameter but this flower is coming off of a tertiary trunk and is about 2 inches in diameter, maybe.