1
« on: May 27, 2018, 01:51:14 PM »
Any more info on "Jamie Rose" avocado?

Yesterday I toured the
La Verne Nursery
(wholesale grower) with the
Los Angeles Chapter, California Rare Fruit Growers
.
The nursery tour was lead by Daniel Nelson, Director of Nursery Operations.
CRFG members were allowed to purchase trees, I bought a
Jamie Rose
Avocado tree.
La Verne is growing this new grafted Avocado tree from scion wood provided from LA Chapter CRFG Chairman, Tony Stewart.
The original tree is growing in Hollywood, CA and Tony has named the "new" variety Jamie Rose.
La Verne had plenty of the trees available for $20. ea. Several LA CRFG members purchased a Jamie Rose. The tag was misspelled.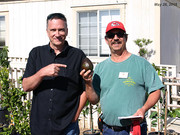 Daniel Nelson and Tony Stewart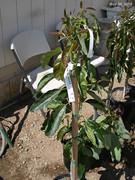 I asked Daniel when would we be seeing Jamie Rose at Lowe's, etc.
He said not in the near future.
He feels it needs to be DNA tested to make sure it is not already a named variety that the name was forgotten.
Of course Tony is excited to see a tree he named after his daughter.
The fruit looks good, it has an interesting story, and knowing it came from Tony and La Verne grafted it on Mexicola seedling root stock... plus $20. it was a must buy IMO.