1
« on: December 02, 2023, 01:46:50 PM »
, 3,5 years now after planting my frosthardy citrus
I could this year now harvest first fruits from my inground
Citrus in zone 7, only passiv protected, exception Satsuma Collot
which I protected with heater below -7 ° C.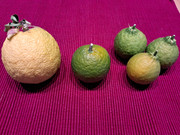 The 3 varieties, Yuzu x Citrumelo, Satsuma Collot and Sanford F2 Curafora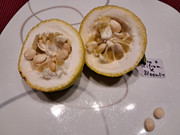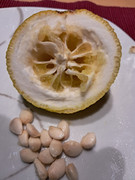 Yuzu x Citrumelo, nearly 40 seeds in the fruit.
Taste of the rind lemony now when ripe. Flesh medium juicy, taste lemon grapefruit mix, light bitterness, but
but not with any aftertaste. Overall not bad for a very frosthardy
Citrushybrid and a good hybrid for further breeding.
Sanford F2 Curafora, after the harvest this year, with nearly ripe
fruits End of November, now for me one of the best frosthardy citrus hybrids.
Taste, mandarin grapefruit taste, very juicy, about 10 seeds per fruit.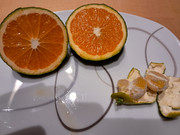 Satsuma Collot, very good taste, sweet, nearly no acid. Astonished that already mid/ end of November
fruits are very delicious.