1
« on: July 31, 2018, 04:13:51 AM »
This is one of my ponderosa lemon trees.
It's 4 years old from a small cutting and now planted in "soil" and producing plenty of juicy lemons all year round.
This variety seems perfectly adapted to the hot tropical climate of the philippines unlike other varieties i've here.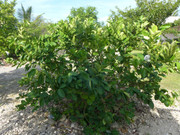 Apart from an evident zinc deficiency (that I'm trying to correct with Zinc sulphate solution spraying) this tree has never given any problem.
Nevertheless, lately i noticed that somethig strange is happening.
Some branches have weird "leaning" leaves with a wilted appearence.
I looked out for worms/borers, parasites but i couldn't spot anything.
In some pictures it's evident the difference between the upright normal leaves and the sick ones.
Any suggestion?
Thanks in advance!