1
« on: June 03, 2023, 01:15:27 PM »
Iím up in Sebastian so things start a bit later than everyone down south. We barely stayed above freezing this winter so I ended up having a great mango bloom. My oldest tree has a 5 yr old rootstock and was a seedling of a grocery store mango that was planted in the ground very young. I was just learning about mangoes at the time and tipped it at ~2í and grafted 5 different varieties onto all the new growth flushes. Fortunately, some of them didnít take (Valencia Pride) but the one that took and really took over the tree was what I thought was Cogshall. It fruited for the first time in 2021 but only had 5 fruits (of which the squirrels got 4) and I wasnít very impressed with the one I did eat. Everyone had a terrible year in 2022 so I didnít get any mangoes but the tree really filled out due to extra growth flushes. Now this year, I have 30+ fruit hanging. A couple started changing color this weekend and one felt a little soft so I gently tipped the fruit and it immediately fell off. Very little sap came squirting out so I had high hopes and let it sit on the counter for a day.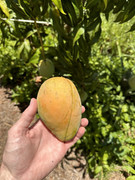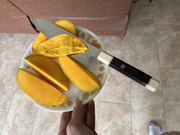 It was pretty darn good with a surprising amount of flavor considering all the rain we have been getting recently. The problem is that they just donít quite look like Cogshall. One of the other varieties I grafted was Angie so Iím starting to wonder if thatís what this is. It definitely has a ďmangoĒ flavor with a bit of spice notes and resin flavor near the skin. The tree has zero issues with diseases and I do not spray it.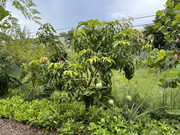 Ignore the new growth on the upper right corner. Thatís my ďbackupĒ for a PPK that just wasnít taking off like I thought it should. The fruit start blushing yellow and a slight tint of red but nothing like the bright red that Iíve seen in photos of Cogshall. Both varieties are dwarf and it sounds like they both have good disease resistance. Anyone have an idea what this variety is?