1
« on: September 26, 2022, 07:13:58 PM »
I am getting the lay of the land here and doing my best to find some good foraging/scavenging spots. (while never taking from peoples yards!) As well as checking out a few of the local farmers markets.
In a trip to San Francisco Botanic Garden I was able to find Ugni molinae (Right) and Luma apiculata (Left)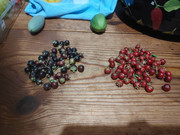 I took a picture of the Luma tree but forgot to get one of the Ugni bush-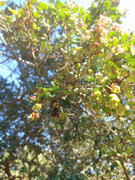 The Luma taste like blueberries on the interior and quite good- the skin has a licorice flavor that I am fond of but some people might not like.
Have you ever wondered where the "skittles" flavor comes from? It's this fruit- they are very tasty, only problem with both of these is that they are small.
I was wandering around a farmers market when I spotted a little stand that had just 3 baskets of "Cherry Guavas" left, I happily grabbed one for $5 and can check Psidium longipetiolatum off the list now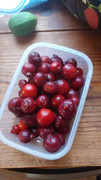 These are delicious and might represent the best alternative to cherries in subtropical climates. I didnt get much guava flavor from them at all.